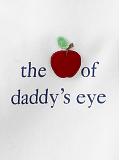 That's what the lady at Baby Gap said to me as we waited for this super cute onesie to arrive at the counter in our size. I said, in a very reassuring manner "Nope! I'm due in June" (I didn't even tell her late June). She looked at me with quite a puzzled look. "Um, are you sure there aren't two in there?" No, honey, I've gotten that response from a number of people. "Nope, just one. We're sure".
We went shopping for baby clothes. Nick apparently hasn't been to Broadway Plaza in a long, long time as he just noticed J.Crew in the shopping center (um, honey, it's been opened at least a year now). As we were walking along the shopping center, he laughed. He said "It's awesome to watch people as they walk by you. They look at you, then all eyes are on the belly". Apparently I'm quite an attraction :)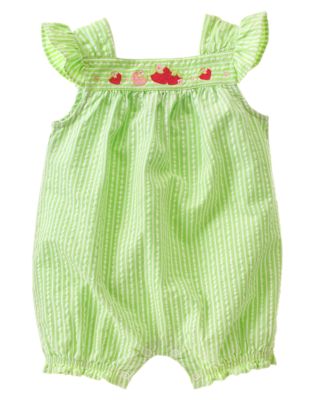 We also picked up a couple things at gymboree. This little jumper thingy (um, I don't know the "real" lingo yet) is super cute. I like that it's very 'summery' for our little summer girl. We also got this little matching hat.
I'll have to take a picture of our closet as it fills up! I've had to make a couple trips to the store for hangers as the ones we've previously purchased continue to be 'taken'! We've recieved many generous gifts from friends and family and I'm so excited to not know which cute outfit to dress our little girl in!
29 weeks